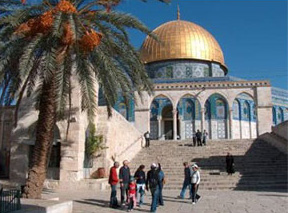 Day 1 – old city
The best place to start a tour in Jerusalem will be the Mt of Olives observation which is the most beautiful observation in Israel give us a great view on The Temple Mt, as well as a point to remember the history of Jerusalem. The observation is the best in the morning when the sun is in our back.
Driving down from Mt. of Olives, Crossing Kidron Valley we'll be able to see some of the tombs in Valley of Jehoshaphat . Parking in Jerusalem is not an easy task but here it become a necessity as we continue our tour from here on foot.
Before entering the old city walls we'll have a short visit in City of David and then quick look at The Southern Wall .
We'll enter the old city through the Dung Gate. If time permit it is highly recommended to visit Jerusalem archaeological park. Short walk will take us to The Wailing Wall. Walking in the Wailing Wall tunnel. If it will be possible we'll visit the Temple Mount. Exit the temple Mt. through "The Cotton market" which today specialized in candies and small souvenirs given to the children coming to pray.
Visit the Cardo. Will watch a short movie: how we lost the Jewish quarter.
Tour in the `Hhurva` beautiful old synagogue witch been well reconstructed. finally going down to The Dung Gate and back to our car (3-6 hours walk).
dinner in yekaliptus restaurant unique kosher Restaurant (optional)
Day 2 – new city
Yad Vashem – the holocaust museum
Down town – Ben Yehuda pedestrian Street
Ein Kerem – beautiful stone quarter.
Chagall windows In the Synagogue of the Hadassah university hospital depicting Jacob's blessings to his sons, the Twelve Tribes of Israel
Burma Road (jeeping) the bypass road of Latrun that save Jerusalem at the War of Independence
Stalactite cave Judaea mountains