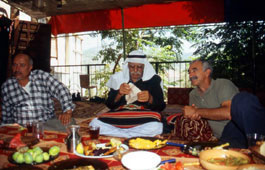 Special tour for those who have visited Israel at least twice
Follow my book "Tour with Morris in the Galilee" an ethnic culinary tour at the lower Galilee. We'll travel through enceinte villages where Jews of different denominations, Arab Muslims and Christians as well as Druze and Circassians. In each community we'll learn its special tradition which in a generation or tow is going to be extinct.
We'll experience the tradition and enjoy the flavors and stories.
In Netofa Valley we can see the traditional crops as okra, black-eyed peas, sesame, and more. Biblical-style guard huts, beside them stacks of wheat, chickpeas and sesame.
Going through the villages we'll visit private houses and see the life activity, cooking at the court yards using "Tabuns" (Ancient mud oven), smelling the flavors and tasting the unimaginable quality of their dishes.
Accommodation and dinner in a traditional home is an unforgettable experience.
We'll visit families owned boutique wineries and dairy farms which will be a special experience to wine and cheese lovers.